Greetings from the Folks @ the Franklin Wild Birds Unlimited® Nature Shop

Nature Products Designed by Experts - Trusted Local Advice!

Enjoy New Birds and Help Them, Too
The weather can make it a tough time for birds. Research shows that providing a consistent and reliable source of high-fat, high-calorie foods can help birds maintain a healthy body condition and help you attract new feathered guests.
During our Mix & Match Specialty Bird Foods Sale, you can save on a wide variety of high-fat foods, including our exclusive Bird Food Cylinders and Stackables®, suets, Jim's Birdacious® Bark Butter® and more. It's a great way to save and provide your birds with much-needed nutrients.
Mix & Match Specialty Bird Foods Sale
Buy 4; Get 1 FREE*
*Buy any four specialty food items, get the fifth item of equal or lesser value FREE. Valid only at the participating store(s) listed. One discount per purchase. Not valid with other discounts or previous purchases. Offer valid 01/06/17 thru 01/16/17.
Help Birds Survive Cold Weather

Typically, your feeders serve as a supplemental food source for birds. In contrast, during periods of extreme cold and severe winter weather, your birds may switch to utilizing your feeders as a critical source of food that enables them to survive from day to day. So make sure your foods are worth their weight with quality high-calorie, fatty foods for the birds.
You can play a vital role, as feeding the birds becomes critical when extremely cold conditions occur. At these times, a reliable supply of energy-heavy food can mean the difference between life and death for a bird. To stay warm, birds will expend energy very quickly, some losing up to 10% of their body weight on extremely cold nights. Food is the most essential element, providing birds with the energy, stamina and nutrition they need. An ample supply of high-calorie foods such as suet, Bark Butter, sunflower, Nyjer and more is crucial to a bird's survival.
Suet as well as Jim's Birdacious Bark Butter® and Bark Butter Bits are full of essential fat and protein helping birds, such as woodpeckers, chickadees, nuthatches, titmice, wrens and others, maintain their high metabolic rate.
Nyjer and Finch Blend are high in fat and protein, and they are a favorite of goldfinches, Pine Siskin and Purple and House Finches.
Our Deluxe Blend is loaded with sunflower and safflower seeds and millet. Millet is high in carbohydrates and is especially good for attracting ground-feeding birds, such as native sparrows, juncos, towhees, quail and doves.
Bird food cylinders are a win-win for you and your birds. Cylinders, like No-Mess and Nutty for Nuts, are long-lasting allowing you fewer trips to fill the feeder. They are packed with high-calorie peanut, tree nut and sunflower energy to help the birds stay warmer. There are no shells, providing a quick energy snack for birds and no mess for you.
So in order to meet your birds' needs, it is important to have at least one foundational feeder that dependably provides food every day and does not have to be filled very often. Studies have demonstrated that a constant, and reliable source of supplemental food helps to improve the overall health and body condition of wild birds.
Help your birds know your food is worth the weight by locating your foundational feeder in a sheltered location out of the wind and keep it full of the high-calorie, fatty foods that provide birds the crucial nutrition they need to survive and thrive even during the coldest times of the year.
Stop by our store for more expert advice and quality foods that are worth the weight to help your birds thrive this winter.
Let's get started....by telling you about our Newest, Most Exciting Advancement in Bird Feeding: Bird Feeders & Accessories
Available only at Wild Birds Unlimited, our accessories are the most advanced bird feeding products available on the market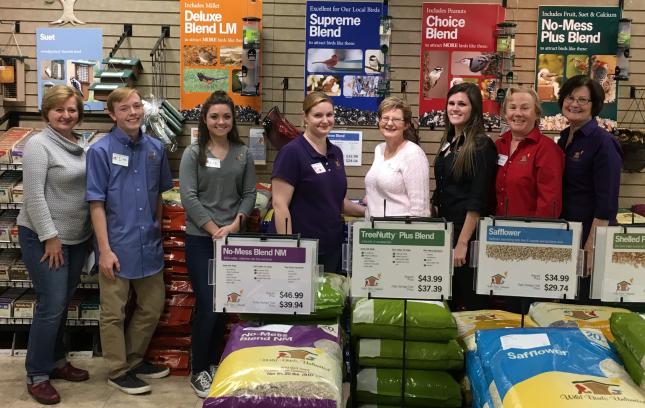 . EcoClean products feature a patented technology that inhibits the surface growth of damaging bacteria, mold and other microbes. This protection won't wash or wear away, and it uses environmentally friendly technology.
We like preparing you for the best backyard birdfeeding experience possible. At Wild Birds Unlimited®, our Certified Birdfeeding Specialists™ are trained to show you how to turn your yard into a birdfeeding habitat that not only brings song, color and life to your home, but also benefits the wild birds and the environment in your area.
WBU isn't just about selling birdfeeders and birdseed. We pride ourselves on being able to give you the most accurate information and knowledge about your local birds.
Based on more than 30 years of research and experience, our products have been designed to be the highest quality birdfeeders and birdfeeding equipment on the market today. We're so confident about our designs that many of our products carry a lifetime guarantee.
We're not only proud of our feeders though. We also have the freshest birdseed in town, and we can prove it. Our exclusive regional blends aren't just fresh; they're specially formulated from 100% edible seed that the birds in your backyard will love.
It is our goal for you to have the best possible experience from your birdfeeding hobby. Backyard birdfeeding is the most relaxing, fulfilling, educational and exciting hobby that anyone, young or old, can enjoy.
At Wild Birds Unlimited, we aren't just a birdseed store. We are Your Backyard Birdfeeding Specialist®, here to help bring you, your family and nature together.
Join the Daily Savings Club! You will get an extra 5% over the Sale price on food items and it only takes 200 points to get $10.00!

The Benefits from the Wild Birds Unlimited Daily Savings Club
Receive 15% off regular, every day bird and wildlife food prices and an additional 5% off sale prices of bird and wildlife food at the Wild Birds Unlimited store of purchase.
Get a $10 Bird Buck for every $200 dollars you spend on any merchandise in the store.
You'll also be rewarded with a FREE gift as well as Club-member-only specials.
The Perfect Gift for Every Nature Lover

Every nature lover is different, so finding the ideal gift for him or her can be difficult. That's
why our Gift Cards are the perfect gift for every occasion. They allow your friend or loved one to choose what part of nature he or she wants to enjoy. The best part: our Gift Cards are redeemable at every Wild Birds Unlimited location.
If you need to check the balance on your Wild Birds Unlimited Gift Card, click here.
Fun Facts About Squirrels
Adult Squirrels can consume about one and a half pounds of seeds and nuts each week, which is roughly the equivalent of their own body weight.
Squirrels' favorite natural foods are hickory nuts, pecans, black walnuts, and acorns. Their favorite feeder food is black oil sunflower seeds, their least favorite feeder food is Nyjer® (thistle) seed.
A 19-inch-long gray squirrel has a seven-foot-long digestive track that enables it to utilize a wide variety of foods including tree fruits, insects, bird eggs and mushrooms.
Squirrels must drink water at least twice per day.
A squirrel's scalpel-sharp incisors grow about six inches per year. As with all the other members of the rodent family, squirrels must constantly gnaw on hard materials to keep them worn down and to sharpen them.
In an hour's time, a squirrel can collect and bury 25 nuts. Unable to remember each nut's location, they find them again by using a highly developed sense of smell.
During a harsh winter a squirrel may loose up to 25% of its body weight.
Most squirrels are active in the winter only around mid-day, during the remainder of the year they are early risers with a peak activity period during the two hours after sunrise and again during the mid-afternoon.
The name "squirrel" originates from the Greek words for shade and tail.
Squirrels will have a litter of three to four young around early January and again in early August. The average life expectancy of these youngsters in the wild is approximately one year, although some captive squirrels have lived up to 15 years.
Squirrels may den in the ground, tree cavities, and in nests they construct that are called dreys. Summer dreys are located in tree branches and consist of twigs and leaves. Winter dreys are waterproof and have a lining of bark, lichen, moss, fur and leaves.
Squirrels can jump up to six feet vertically and eight feet between trees or structures. Placing feeders and baffles outside of their jumping range will help to deter them.
The Gray Squirrel uses its tail as a shield when fighting, as a blanket in cold weather, and, sometimes, as an umbrella during rain storms.
The Gray Squirrel weighs only ½ an ounce at birth and reaches its adult size six months later.
The Gray Squirrel stocks its winter pantry by burying up to 10,000 nuts each fall. It also feeds on grapes, fungi, grasses, larval and adult insects, and amphibians.
The Fox Squirrel sweats through its paws. During hot weather, it will actually leave damp tracks on a dry surface.