Happy Father's Day From the Folks @ Franklin Wild Birds Unlimited® Nature Shop!
Shop Us First for Unique Father's Day Gifts
Splash it up for Father's Day!
Attract More Birds to Your Yard with Water.
We carry so many birdbaths it is hard to describe exactly what you might find at our store.
Birdbaths and bird fountains are made out of every conceivable material, in every shape and size and can be placed anywhere you wish: on pedestals, chains, or decks.
We have recirculating fountains, big and small. We have Water Wigglers! We also have Drippers & Misters of all sorts to wet-it-up around your birdbath. Want to keep it clean and healthy around your water works, we have all sorts of cleaners and Mosquito inhibitors.
Father's day tip: What can I put in my bird bath to keep it clean?
We do not recommend putting anything in your bird bath to keep it clean. Every other day you should empty the bath, scrub it with a brush and rinse it well. Refill with fresh water. If the algae builds up quickly, you can use a ten parts water to one part bleach solution to clean the bird bath. Be sure to rinse well and place fresh water in the bath.
Let Dad get Up Close & Personal With His Favorite Birds
Window feeders are exciting feeders, because they attract the birds to within a few inches of you. Movement inside the house will scare the birds momentarily, but they soon come back. We recommend placing these feeders near your breakfast window so as you sip your coffee you have a "close encounter" with nature to start the day. Young children are especially thrilled to see birds so close, as are the aged or infirm who cannot see birds at a distant feeder.
Another way to get a close-up view of your favorite birds is by keeping a pair of binoculars handy. You'll be amazed at how binoculars can increase your enjoyment of birds by bringing the details up close. Whether it's identifying birds in the field or enjoying an afternoon of watching birds at your feeder, we have a mini, compact or standard size binocular for you.
The Classic Bird Feeder for Father's Day? Yes!
Efficiency, Functionality and Satisfaction Guaranteed.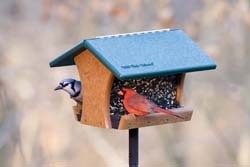 It all started with the Classic Bird Feeder. Classic Bird Feeder. In 1990, Jim Carpenter, founder, president and CEO of Wild Birds Unlimited, set out to create the perfect wooden bird feeder. He designed a stylish, durable and easily maintainable feeder that offered the one feature found in no other feeder - the ability to see birds feeding better.
That day, the Wild Birds Unlimited Classic Hopper Feeder was born. Its design has kept its integrity for over 15 years and has become the symbol for the Wild Birds Unlimited franchise.
Throughout the years, we've made sure that all our feeders, whether hoppers, seed tubes, finch feeders, or wild bird feeders offer that same feature - the ability to see birds feeding better.
In fact, from a functional point-of-view, the following characteristics are built into all our bird feeders:
• All birds are visible to the viewer
• It is easily hung or post-mounted
• It is easy to fill
• It is easy to clean
• It is sturdy and weathers well
• Your satisfaction is guaranteed
We want you to have the best possible experience from your bird feeding hobby. And that all starts with high-quality wild bird feeders and bird seed.
Does Dad Need a Birdwatching Field Guide?
We've Got All the Resources You Need
You can see and learn as much as you want to about birdwatching and nature by choosing the field guides or other nature education resources that best meet your needs.
Whether it's identifying a new bird in your backyard, tracking your hikes in your nature journal, or researching the birds on your computer, we have what you need to enjoy the hobby more.
We stock a full library of comprehensive, regional and area specific birdwatching field guides. Whether you want to know only about the birds in your yard, or you want to identify the shorebirds on your next trip, we have the bird guide that's right for you. We also carry computer software that will help you learn not only by sight, but also by sound.
Visit us at the store in Franklin to see and learn more about our bird books and other educational resources.

Give a Gift; Get a Gift!
Looking for a Father's Day gift, but you're not exactly sure of what your dad would want? Try a Wild Birds Unlimited gift card - they're redeemable at all Wild Birds Unlimited locations and they allow your dad to pick out the nature gift he really wants.